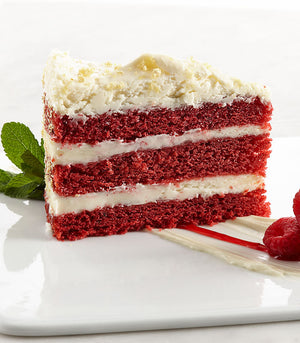 Red Velvet Cake / Gâteau Red Velvet
The colours will captivate you but it's the taste that will keep you coming back for more. Beautiful raspberry red velvet cake layers mesh perfectly with our signature real butter and cream cheese icing and a delicate sprinkle of lemon zest.
Portions: 14 (pre-cut portion control)
Vegetarian

Les couleurs vous séduiront, mais c'est le goût qui vous fera en redemander. De magnifiques couches de gâteau rouge aux framboises s'harmonisent parfaitement avec notre glaçage au vrai beurre et fromage à la crème, parsemé d'un délicat zeste de citron.
Portions: 14 (pré-découpe et contrôle des portions)
Vegetarien